Taipei Night Tour inc Taiwanese Dinner
The Tour
You'll be picked up from Taipei city hotel at 6:00pm and taken to a local restaurant where you'll enjoy a delicious Taiwanese Dinner at Din Tai Fung. It was founded in Taipei, Taiwan in 1958 as a cooking oil retail shop. In 1972, it transitioned into a full fledged restaurant specializing in soup dumplings and noodles. The restaurant was soon winning rave reviews from all over the world. When internatioal celebrities visit Taiwan, they always visit this world renowed restaurant - Ding Tai Fung.

After dinner continue to the exotic Hwahsi Street Night Markets and Snake Alley, lined with food stalls and small shops. Pick up a bargain! Kylie Minoque visited here on 3 December 2008, when she was touring her Asia concert tour and recorded a duet with the local singer, Jolin Tsai for a duet to be released in 2009.

The night tour of Taipei continues to the ancient Lungshan Temple, often crowded with worshipers. The Lungshan Temple is one of Taiwan's finest examples of temple architecture. Ancient Buddhist rituals are still practiced at the Lungshan Temple.

The last stop on this night tour is at famous Taipei 101 Building, the world's 2nd tallest building. The 101 Building (admission to be payable direct) is a must-do attraction while in Taipei, 508 meters tall and completed in 1999, Taipei 101 contains a 5-storey shopping center.

Tour Highlights
Inclusions:
All Tours start in Taipei and finish in Taipei
All road transport by modern air-conditioned vehicles
Local English speaking tour guides in each tour
Local Travel Insurance are included
Exclusions:
Gratuities (optional)
Personal expenditure such as drinks, food and souvenirs
Entrance ticket to Taipei 101 Observatory
-----------------------------------------------------------------------------------------------------------------------------
Eat, Drink and Play


It's all a part of daily life, and probably the best place for visitors to experience a little of local color. Eric Jou tells us more about the ubiquitous night markets of Taiwan where both natives and tourists mingle to shop, have a meal, chat and relax.
The night is hot and humid, just like any other summer night at Taipei's Datong district. Thousands are squeezing into a narrow back street off Ningxia Road, and the night is filled with gleeful shouts, beckoning cries and the scent of sizzling food. No, it is not a block party, or a carefully orchestrated public relations event. It's just another normal evening as people gather to celebrate the age-old tradition of the Taiwan night market.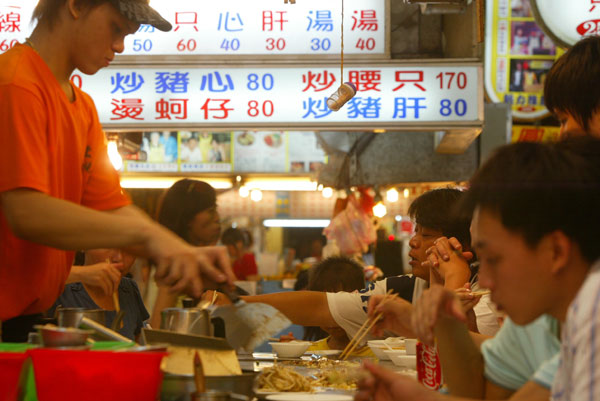 From tasty pig innards to oyster omelets and the local version of toad in the hole, the Taiwan night markets draw foodies from the local neighborhood as well as visitors from abroad, especially from the Chinese mainland.

These night markets, basically groups of street vendors in any given locality, are a staple of Taiwan nightlife. They offer everything from food to tourist souvenirs and game stalls.
"Night markets fill a very important role in Taiwan," says Lin Ting-kuo, head of the Ningxia Road Night Market Association. "In Taiwan, convenience is very important, and the night market offers convenience in many ways, from offering fast and cheap food to hungry businessmen, to providing a nice venue for the family to get out and have fun."
Lin says the hospitable nature of the Chinese people in general is part of the reason why night markets have become such an integral part of Taiwan's culture.
"Many people head out to night markets and dine directly at the food stands or stalls," says Lin. "In doing so, they can chit-chat with the stall owner, and these conversations give a sense of familiarity and belonging, and that makes night markets places that people feel at home."
Lin's Ningxia Road Night Market, like many of Taiwan's night markets, started out as a place where people gathered. Some of the more famous night markets began life on streets in front of temples.
In the case of Ningxia Road, the night market began during the Qing Dynasty (1644-1911) when vendors gathered to sell iced tea and various snacks inside what was called the Yuanhuan Gardens.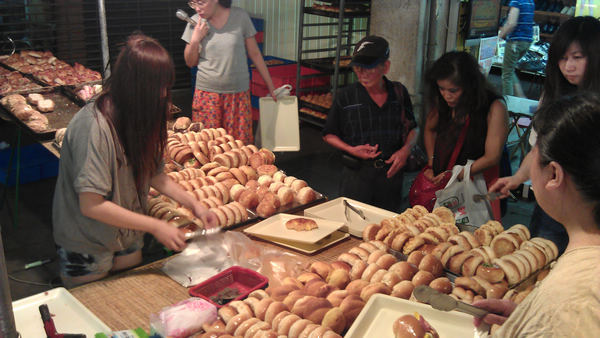 A pile of freshly abked savory and sweet pastries attract a crowd of eager regulars at the night market.

The gardens were by a busy six-way crossroads and became a popular spot for people to gather, a fact that enterprising businessmen soon noticed, and started selling refreshments.
During the Japanese occupation of Taiwan, the Japanese built up the area surrounding the gardens and the vendors were forced to move to a nearby street - Ningxia Road.
When the Kuomintang retreated to Taiwan, they began regulating street hawkers. Currently, all hawkers in Taiwan have to be licensed or risk breaking the law.
While night markets operate legally in public space, their existence hasn't exactly been easy.
According to Lin, night markets operate on a fine line. While they boost the local economy of the neighborhood, they also draw the ire of residents who want a peaceful night's rest. The typical hours of a night market start at 6 pm and end around one or two in the early hours.
And then, there are some that have faded and disappeared due to various reasons, such as botched attempts to improve and relocate them.
Taiwan's most famous night markets, the Shilin and Shida night markets, have become shades of their former glory. The Shilin night market, located in a snake-like alley lined with residential developments, was forced to move the majority of its food stalls indoors, making it lose much of its appeal.
Shida night market, also located in another residential area, also felt the effects.
According to James Parng, chief of the Longquan neighborhood and Shida shopping district, Shida night market has shrunk from having about 300 stalls to a little more than 180. He says the drop has affected business, but only because the market is now smaller.
"Shida is still very vibrant, we still get loads of people coming here," says Parng. "Many come to see what's left and are surprised to see the market still very much there. Loads of tour buses drop off tourists from the Chinese mainland."
The impact tourists from the Chinese mainland have had upon the Taiwan night markets have been very profound.
Parng and Lin both say that it was immediately obvious that cross-Straits tourism has opened a steady flood of visitors eager to experience this Taiwan tradition.
Taiwan blogger and foodie Camie Tao says the night markets are the best way for foreigners to learn about Taiwan culture.
"If a tourist only has a few days in say, Taipei, they can't physically go to all the special local restaurants," says Tao. "But with night markets, they can stroll down the food section and sample a little of everything. Basically, they can eat and taste the local food culture at one spot."
Tao, a regular on Taiwan television's food shows, says the success of the night markets owes a lot to their ability to cater to what Taiwan residents want.
Tao cites the example of Eslite, one of Taipei's most popular bookstores.
"Eslite became what it is today because it catered to what the customers want. Customers wanted more than just books, they wanted coffee and food, and one-stop shopping," says Tao. "Night market patrons wanted more than just food from the night market, so the markets adapted and have become one-stop entertainment locations."
One thing that makes night markets particularly interesting is the fact that they are special to Taiwan, Tao says. While many places on the mainland have night markets, they are not the same spectacles found in Taiwan.
Parng also attributes this uniqueness to the Taiwan way of life and culture.
"Night markets are a special part of the local night life," says Parng. "Compared to night clubs, a night market is a very family oriented affair."
For 23-year-old Taiwan resident Candy Fan, night markets are an important part of her life. Fan recalls growing up in Taipei and visiting the various night markets with her parents.
"I really liked going to the night markets when I was younger, in fact I still love it now," says Fan. "I used to love to play the games, like fishing for prawns, catching fish with a paper net and shooting balloons with darts or a BB gun."
For young people like Fan, the night market has become a place to hang out with friends. The affordable food and vibrant atmosphere are attractive, and Fan says she and her friends visit night markets at least once or twice a week.
"The night market is a part of my life," says Fan. "It's a part of my culture and an inseparable part of Taiwan life."
Source: By Eric Jou (China Daily) 19/08/2012
To Book or Enquire
Please call us now on +612 9267 1308.
Toll Free: 1300 TAIPEI (1300 824 734)
Alternatively, you can enquire with us by clicking the button below.